About the Collection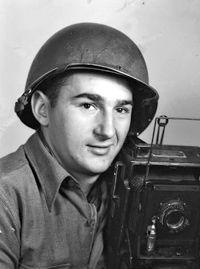 Brigham Young University gratefully acknowledges the generous contribution of Sam Cowan and Richard and Nadene Oliver.
J Malan Heslop, a young man of 21, was to leave a memorable record of the last nine months of World War II in Europe, from September 1944 through May 1945. The over 1350 photographs found in this digital collection, were scanned from the negatives, original prints, and slides, deposited by Heslop in the L. Tom Perry Special Collections, Harold B. Lee Library, Brigham Young University.
At the age of 20, Heslop became a member of the U.S. Army Signal Corp, 167 Signal Photographic Company, and began his basic training at Camp Crowder on 3 September 1943.
In December 1943, he was issued two cameras, a 4 x 5 Speed Graphic for official photographs, and a Leica 35 mm camera. It was after basic training, while stationed on the campus of Cumberland University, Lebanon, Tennessee, that his first picture taking opportunities occurred where war games were photographed. The trainees had set up a photo lab in the basement of one of the buildings at Cumberland University and it was there that they processed their pictures. Before shipping out for Europe, he received the rank of Technician 5th Grade, T/5, the equivalent of a Corporal.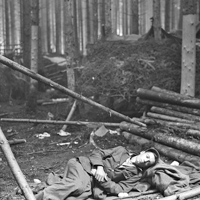 On 23 July 1944 he shipped out from New York City on the troopship NY-23, the Mauritania, after a short time spent with his bride, Fae Stokes, whom he had married on 1 May 1944. By 1 August 1944 they disembarked at Liverpool, England, and temporarily were stationed at Moberly, England; a little over a month later, on 5 September 1944, his Company landed on Omaha Beach in France.
Using his two cameras issued in training, his documentation of the devastation and destruction of war are profoundly moving. The 167 Signal Photographic Company was headquartered at Verdun, France, and from this base Heslop and his fellow photographers, Walter McDonald, Warren King, Edward Urban, John O'Brian, and Arnold Samuelson, documented the end of the war. Heslop indicates that the 4 x 5 film was packaged and sent to Signal Corp labs, usually in England. Prints, and on occasion negatives, were returned. The 35 mm pictures were developed by the Company lab, a small print made, and film and print returned to him.
Much was packed into those nine months and here we list a sampling of the events he experienced in Austria, Belgium, France, Luxembourg, and Germany. He photographed the U.S. Army Counter Intelligence Corp (CIC) activities as well as French intelligence; Charles DeGaulle and Winston Churchill in Paris; portions of the last German offensive known to Americans as the Battle of the Bulge; the psychological warfare tactics of the 2nd Mobile Radio Broadcasting Company in Luxembourg; the ruins of Eschweiler, Durwiss, and Aachen, Germany; the 9th Armored Division west of the Rhine River; the ruins of Naumburg, which Heslop describes as haunting; the suicide of the mayor of Leipzig and his wife and daughter and the chief of police; the birthplace of Hitler, Braunau, Austria; POW camps; the surrender of German soldiers; and refugees and displaced persons moving along in horse drawn carts and on foot carrying what little they owned.
The heartrending experience with death and destruction are epitomized by a French girl sitting amidst the destruction of her home and neighborhood and a sobbing French boy in front of his home in Auboue, France, where all of his family was killed and his home destroyed.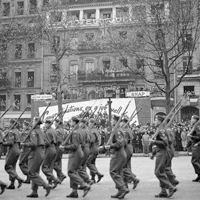 The German Army officially surrendered on 7 May 1945 at 02:41 in the morning at the Supreme Headquarters Allied Expeditionary Force (SHAEF) headquarters in Rheims, France. It included the phrase "All forces under German control to cease active operations at 2301 hours (11:01 p.m.) Central European Time on 8 May 1945 and to remain in the positions occupied at the time."1 The surrender news broke in the West on 8 May, and spontaneous celebrations erupted throughout Europe. In the United States, Americans awoke to the news and Truman declared May 8, V-E Day.2
The very day that the news of the unconditional surrender broke became the most horrible experience to Heslop and his fellow soldiers; it was on this day that they entered Ebensee Concentration Camp in Austria. In his own words Heslop said, "A brutal Nazi prison camp at Ebensee, Austria contained about 60,000 prisoners from 25 different nations. Thousands had starved or been killed in gas chambers. People were still dying as we entered the camp. A most tragic scene. Men, starving and crowded four to the bunk. The 80th Division, 3rd Army arrived to bring aid, and supplied milk and sugar for the men to drink. Men took the posture of prayer as I entered some of the crowded barracks. I took many pictures. I did not have the capacity to fathom how terrible the situation was."3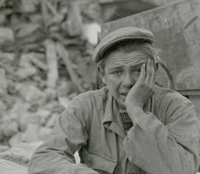 By 12 May the Company was relaxing for a few days at Lake Traunsee at Gmunden, Austria, prior to gathering of many units to Wiesbaden, Germany, preparing to return to the United States. The troops embarked from La Harve, France aboard the U.S.S. General Gordon on 20 June 1945 and arrived on 27 June at Newport Beach, Virginia. He soon received the rank of Technician Fourth Grade, T/4, Sergeant.
After a 30 day furlough Heslop was stationed at Fort Benning, Georgia, and the 167 Signal Photographic Company was on alert to depart for the Pacific until the alert was removed on 1 September 1945.
Heslop headed home to Utah and his wife, Fae, on 6 September 1945 and received his honorable discharge from the U.S. Army on 8 November 1945, at which time he enrolled at Utah State Agricultural College (now Utah State University) in Logan, Utah. Upon graduation in June 1948, Heslop joined the Deseret News newspaper in Salt Lake City, Utah, as a photo journalist. He was to enjoy a 40-year distinguished career as a photographer and managing editor of the Deseret News. Heslop died July 29, 2011, in Salt Lake City.
Footnotes
The Army Almanac: A Book of Facts Concerning the Army of the United States (Washington, D.C.: Government Printing Office, 1950): 614.
Mary H. Williams, comp. Chronology 1941–1945. United States Army in World War II Special Studies (Washington, D.C.: Office of the Chief of Military History, Department of the Army, 1960): 534.
This was quoted from the timeline developed by J Malan Heslop and deposited with his photographic collection at the Harold B. Lee Library. Heslop apparently kept a diary during the war years which allowed him a detailed outline and timeline of these events.