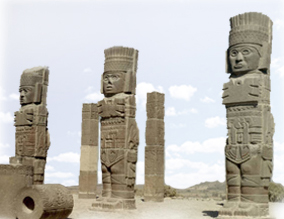 Dr. Paul Robert Cheesman (1921–1991), well known for his study of ancient American archaeology and ancient scripture, served as an instructor for the Department of Religious Education at Brigham Young University from 1963 to 1986.
Apart from his work as a university professor, Dr. Cheesman also served as military chaplain during the Korean War and as president of the Foster Corporation. This last position required Cheesman to be heavily involved in Central America, where he developed a love for archaeology, which led to his building a sizable collection of pre-Columbian artifacts from research excursions to both Central and South America. This experience led him to become a leading authority on the archaeology of The Book of Mormon.
The Cheesman collection, donated to BYU by Dr. Cheesman's wife, Millie, contains hundreds of objects pertaining primarily to his study of Ancient America and The Book of Mormon. These include many professional and personal manuscripts, notes, teaching aids, research and reference files, audio and visual materials, slides and photographs, and color separations covering over 30 years of research in the ancient Americas, other ancient civilizations, and LDS Church history.
More than 500 photographic images in this collection have been digitized for the online collection at BYU, showing a variety of buildings, landscapes, and artifacts from Mesoamerican archaeological sites in Mexico, Central America, and Peru, that range from the terraced steps of Machu Picchu to the towering temples of Teotihuacan.