About the Collection
Biography of Joseph Daniel Bagley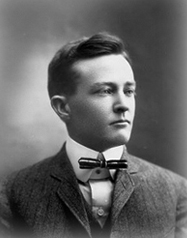 Joseph Daniel Bagley was born Joseph Daniel Flannigan on 17 December 1874 to Thomas Emmett Flannigan and Margaret Melissa Bagley in Toquerville, Utah. For some reason Joseph at a very early age came to live with his maternal grandparents Daniel Bagley and Mary Bell Wood; he may have been adopted, as he took the name Bagley.    He learned the profession of bee keeping from his grandfather, Daniel Bagley, and for many years operated one of the largest apiaries in central Utah, known as the Western Bee and Honey Company.1 On 10 September 1900, Joe began working for "Bishop Ed. Anderson at the photography for $12 per month."2 On 19 June 1907 he married Emma Spafford and after an eight year wait they were blessed with their baby, Josephine, who tragically died at the age of four.  Three more children were to come to the family, Jane, Daniel Spafford, and Shirley.  Emma unfortunately died in 1926, and Joe struggled to keep his family together.  He continued to operate his apiary and trained his son, Daniel in this business.  The girls were sometimes farmed out to aunts and Daniel would stay at the photography studio with his father. 
Joe or Jody or J.D. as he was known was a well–known wit and practical joker. Apparently the 4th of July parade in Springville, Utah, was quite the affair, and Joe Bagley always entered a float to promote his bee business.  One year he rounded up all of the "town loafers," and secured them on his bee truck so they couldn't get out. Apparently, these "town loafers" happily rode through the town waving and smiling at everyone and it was only after the parade was over that they realized people were "laughing at them rather than with them." On the bee truck Joe had written a sign which said 'DON'T BE A DRONE." 3
Joe's son, Daniel, indicates that his father often worked in the apiary during the summer months and at the photography business in the winter months where he made picture frames, and took and developed pictures.4 Joe and Elfie's brief marriage which took place in May 1936, was described by his son "It was a simple ceremony performed in the old Studio, no flowers, no well wishers, no toasts or celebration.  I signed the license as one of the witnesses."5 The marriage ended with Joe's death just six weeks later, 16 June 1936.
Footnotes
Wadsworth, Set in Stone and Fixed in Glass, 202.
Daniel Bagley, "Daily Log," entry for 10 September 1900.
Daniel Bagley, "Grab a Root, and Growl," photocopy of typescript, 64.
Ibid., 4.
Ibid., 117.