Introduction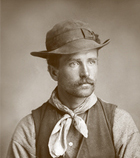 Welcome to the George Edward Anderson Collection. This collection includes 14,020 photographic images. We invite you to browse the collection or perform a search to view historic photos of people and places in Utah and elsewhere in the late 19th and early 20th centuries.
The photographs taken over his career demonstrate his artistry with a camera and his perfectionism. Both studio and environmental portraits of Utah residents are available in the thousands. Anderson's collection of negatives contains something of railroad history, mining, LDS temple building, and LDS historic sites. Unfortunately many of the negatives from his experiences in Canada seem to be lost, and almost none of his mission to England and his Arizona experiences have been found to date.

To view the 44 images belonging to the Society: Browse Utah State Historical Society Collection. These same images will also be returned to you as you execute a search, depending of course on the subject of your search.
This website is part of the Harold B. Lee Library's digital Online Collection—a research and educational tool for the community—and was supported by the Institute of Museum and Library Services through the Library Services and Technology Act, administered by the Utah State Library Division.  It is also made possible by the continuous, concerted efforts of Lee Library curators, catalogers, and web specialists.  Many thanks!
Note:  We are soliciting any information you may have on the photographs in this collection.  If you see information that is incorrect or incomplete, please alert us using the Submit Information page.