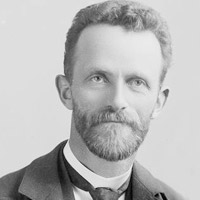 Digital Collections
George Beard Photographs
1,761 photographs taken by George Beard, primarily consisting of exquisite landscapes of Beard's adopted mountain west.
About the Collection
Biography of George Beard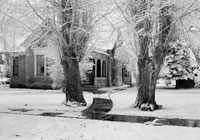 George Beard was born 21 December 1854 in Yeardsley cum Whaley, near Whaley Bridge in Cheshire, England—the village straddles the counties of Cheshire and Derbyshire.1 He was the youngest of nine children born to Thomas Beard and Ellen Elizabeth Platt Clark. George's father was a coal miner and the oldest child, Thomas, indicated that "the family lived in poverty much of the time."2
At some point, the family moved a short distance to the hamlet of Stoneheads, on the west side of Whaley Bridge in the Wye River valley. It was while Thomas Sr. was traveling through Whaley Bridge on a Sunday that he first heard preaching from missionaries for the Church of Jesus Christ of Latter-day Saints (LDS Church). He, his wife and their oldest son, Thomas, were all baptized on 10 February 1852. Subsequently all seven of their surviving children were baptized.
George became one of the thousands of LDS Church members who chose to immigrate to Zion. On 20 June 1868, George, his mother and his sisters, Mary Ann and Elizabeth embarked from Liverpool on the ship Emerald Isle. Previously and on different occasions, George's brothers, Stephen, then Thomas and their families immigrated, John, and then his sister, Sarah, traveled alone to Utah. Apparently their father immigrated at a later date. He was living with his son, Thomas, in Coalville in 1881.3
Tragedy struck the family when the Emerald Isle was only two weeks from the port of New York. As George's mother came down the stairs from the upper deck she fell, sustained substantial injuries, and did not recover. Ellen was buried at sea wrapped in an old sail cloth and pushed into the ocean where a large school of sharks had been following the boat for days.4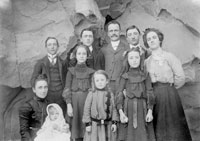 George, Mary Ann, and Elizabeth took the train all the way to Benton, Wyoming, which was the terminus for the Union Pacific Railroad construction. There the Beard children joined with the John G. Holman Company, which included 650 individuals and 62 wagons.5 They left Benton, Wyoming on 1 September 1868 and arrived in Salt Lake City on 25 September 1868.
The Beard brothers and sisters all settled in Coalville, Summit County, Utah—a Mormon village in a high valley with the beautiful Uinta mountain range. These mountains became George's "never-ending source of inspiration and stimulation."6 He lived in Coalville the remainder of his life and contributed greatly to the community. As a merchant, he managed the Coalville Cooperative Mercantile Institution for over seventy-three years until his death in 1944. He served as Bishop in Coalville from 1889 until 1895, and played both religious and civic roles as he also served as mayor of Coalville from 1891–92. His civic duties continued when he was elected to the first legislature of the state of Utah in 1895. Beard was also active as a choir leader and as a producer/director of community musicals at the Coalville Opera House.7 In addition to his production and directing responsibilities at the Opera House, he also painted the scenery for the productions.8
When he first arrived in Coalville as a thirteen-year-old, he met Lovenia Bullock, daughter of Thomas Bullock, one of Brigham Young's clerks. They were married on 31 March 1877 and became the parents of eight children, four sons and four daughters—all born at their home in Coalville. The importance of his family is evident in his photographs as his wife, children, and grandchildren were frequent subjects on his annual treks into the mountains of Utah, Wyoming, and Idaho and to their beloved retreat, Glendale, in the Uinta Mountains on the upper Weber River.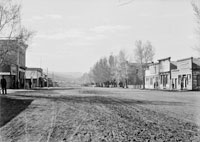 Beard's artistic interests began in childhood under the assistance of his mother. He described sketching with a lead pencil on writing paper the familiar objects of his world in England—the houses, trees, and old fences, while only six years old. The Beard family indicates that his first paintings in England were watercolors.9 During his immigrant travels in1868, the train stopped at Niagara Falls. He later wrote about this experience of viewing the falls: "If I have the soul of an artist it was born while there."10
Early artistic influences were Carl Anderson, with whom he painted in the early 1870s. Anderson later became an art teacher in Ogden, Utah. Beard also wrote to George M. Ottinger, a Salt Lake artist, asking for Ottinger's advice on studying art. He was artistically influenced by Dan W. Weggeland, Willis Adams, Alfred Lambourne, John Hafen, and Harry Culmer. But perhaps he was most stylistically influenced by Thomas Moran. Charles R. Savage, the great landscape photographer and Salt Lake resident, informally taught Beard photography.11
Although Beard's photographic work took second place to his painting during his lifetime, photography was a major part of his artistic technique, and it is evident in his photographs that he had an artist's eye for composition. Beard's daughter, Edna Beard Taylor, recalled that her father: "photographed and made sketches of the subject during the summer and in the winter he would reproduce them on canvas. He always said mother was his greatest critic and inspiration. He was untiring in his photography. He would wait for hours for certain light and cloud effects."12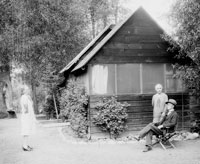 Two of his sons preceded him in death: Arthur who, along with his wife, died of influenza in the worldwide epidemic of 1918, and Howard, who worked with his father at the Coalville Co-operative Mercantile Institution, died in 1928 after an appendectomy. Beard next lost his beloved Lovenia on 18 October 1932. He continued painting, photographing, and traveling in his much loved western mountains, although cataracts in his later years were a great sorrow to him and forced him to stop his artistic endeavors. After experiencing blindness for months, cataract surgery renewed most of his sight. He was jubilant in May 1942 in a letter to his son-in-law, Moses Taylor: "I am the happiest man in the U.S. Just think of it I commence painting today."13
George Beard died on 3 October 1944. A little over a year before Beard's death, Ralph Jordan, a Deseret News columnist provided a remarkable and fitting eulogy, first praising Beard's paintings, but then declaring: "he's also a photographer…or more accurately, an artist with a camera. In more than 20 years of handling pictures for newspapers, I've never seen anything like his camera studies of scenes in his beloved mountains and valleys.… George Beard, of Coalville, is a man the world should know."14
Footnotes
A family Bible entry indicates that George Beard was born at Stoneheads on December 21, 1855, however his birth certificate shows December 21, 1854. See J. Kenneth Davies, George Beard: Mormon Pioneer Artist with a Camera (Provo, UT: The Author, 1980?): 4–5.
Ibid., 1.
Ibid., 11; 1880 U.S. Federal Census, Coalville, Utah, accessed from http://ancestry.com on 18 June 2008.
Ibid., 12. The ships passage and subsequent wagon train experience are taken from Davies book, but he is quoting the reminiscences of George Beard.
Mormon Pioneer Overland Travel, 1847-1868, http://www.lds.org/churchhistory/library/pioneercompanysearch/1,15773,3966-1,00.html, accessed on 18 June 2008.
Ibid., 21.
George Beard: Pioneer Artist with a Camera (Provo, UT: B. F. Larsen Gallery, Harris Fine Arts Center, Brigham Young University, 1975): 1–2.
Davies, 73.
Ibid., 4.
Ibid., 14.
Ibid., 67–68; George Beard, 2.
Ibid., 74, 81.
Ibid., 149.
Quoted in Davies, i-ii.