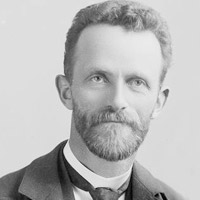 Digital Collections
George Beard Photographs
1,761 photographs taken by George Beard, primarily consisting of exquisite landscapes of Beard's adopted mountain west.
About the Collection
About the Collection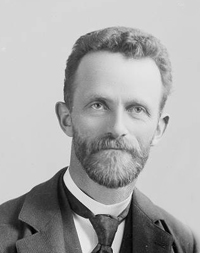 There are 1,799 photographs in the George Beard Photograph Collection, primarily consisting of exquisite landscapes of Beard's adopted mountain west. Usually these landscapes were not identified by place, however, his beloved Uinta mountains Grandaddy Lakes region, or his family retreat in Glendale on the upper Weber River, or the Tetons or the Wind River Range in Wyoming were frequent subjects. There is a documentary quality in these mountain scenes, and interestingly Beard often placed people in his landscapes, especially his own family who generally traveled with him.
Beard's photographic work apparently took second place to his painting during his lifetime, but there is no question photography was a major part of his artistic technique. It is immediately evident in viewing his photographs that he had an artist's eye for composition and lighting. Beard's daughter, Edna Beard Taylor, recalled that her father: "photographed and made sketches of the subject during the summer and in the winter he would reproduce them on canvas. He always said mother was his greatest critic and inspiration. He was untiring in his photography. He would wait for hours for certain light and cloud effects."1 Although his daughter speaks of his summer trips feeding his output of paintings in the winter, it is obvious that he had a love affair with winter scenes. At least 110 of his scenic views are landscapes, with Chalk Creek, near Coalville, a much photographed subject.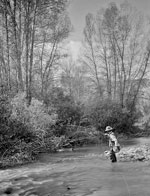 Nelson Wadsworth observes that Beard picked up most of his photographic training on his own, with the help of Charles Roscoe Savage, famed pictorial photographer and owner of the Pioneer Art Bazaar in Salt Lake City (see online Savage collection). Apparently Savage processed Beard's early photographs until he set up a darkroom in his Coalville home.2
Beard's photographs were not displayed during his lifetime, but he would occasionally make prints to share with friends and family members and to use as his inspiration for his paintings.3 This undoubtedly explains why the collection primarily consists of negatives, with only 197 original prints. There are 1042 glass plate or gelatin dry plate negatives, 532 nitrate or nitrocellulose negatives, and 27 negatives on safety film. Beard also occasionally purchased a photograph to assist him in his art and that explains the 32 photographs by Harry Shipler of Salt Lake City's Shiplers Commercial Photographers. These images are primarily of Bryce Canyon.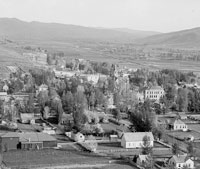 We are delighted to bring to the public a collection of photographs that have not received the acclaim they deserve. We also couldn't agree more with Ralph Jordan, a Deseret News columnist who, about a year before Beard's death, praised his paintings and declared: "He's also a photographer…or more accurately, an artist with a camera. In more than 20 years of handling pictures for newspapers, I've never seen anything like his camera studies of scenes in his beloved mountains and valleys…. George Beard, of Coalville, is a man the world should know."4
Footnotes
J. Kenneth Davies, George Beard: Mormon Pioneer Artist with a Camera (Provo, UT: The Author, 1980?): 74, 81.
George Beard: Pioneer Artist with a Camera (Provo, UT: B.F. Larsen Gallery, Harris Fine Arts Center, Brigham Young University, 1975): 5.
Ibid.
Quoted in Davies, i–ii.