Digital Collections
American Travelers in Italy
Titles in full-text-searchable format for those interested in Italian Studies.
About the Collection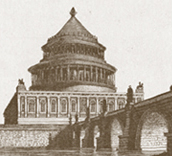 Italian travel literature has been a well-studied and rewarding genre among intellectuals for the past three centuries or more. As a multidisciplinary topic, the theme of Italian travel touches on different traditions and ways of thinking from the history of culture and art to philosophy and religion. This digital collection makes a number of titles available in full-text-searchable format for students, faculty, and others interested in Italian Studies.
The search capabilities enable the user to focus on a given Italian city, region, feature or monument. The collection is accessible even to those with a limited command of Italian, since the texts by American travelers (mostly from the 18th and 19th centuries) are in English. Further accounts of American travelers to Italy can be found here.
The invitation for the Harold B. Lee Library to cooperate with Centro Interuniversitario di Ricerche sul Viaggio in Italia (CIRVI) on this project can be traced, in part, to the natural affinities and relationships developed between Utah, site of the 2002 Winter Olympics, and Turin, home of CIRVI and site of the 2006 Winter Olympics.