Digital Collections
19th-Century Mormon Article Newspaper Index
5,800 newspaper articles dealing with the Mormons or with the territory or state of Utah between 1831–1900
About the Collection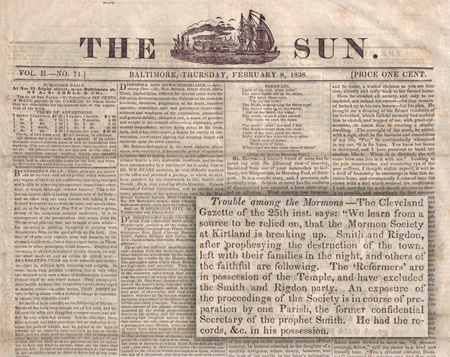 This database is a bibliography of newspaper articles which deal in some way with the Church of Jesus Christ of Latter-day Saints, the Mormons, or with the territory or state of Utah found in national newspapers between 1831 and 1900. The database inventories nearly 5,800 articles.
The database can be searched by the name of the newspaper, place of publication, keyword, date (month year) or subject. General subjects have been assigned to each article to assist in narrowing a search. Article titles can also be searched, but these titles tend to be very general.
The physical newspapers from which this database was compiled are housed in the Harold B. Lee Library's Special Collections. Many of the newspapers are also available on microfilm.