Power exudes from Doug Cahoon's paintings. It was, however, in his letters to his bride, that stark vulnerability was presented. Like many in the armed services, Cahoon was married shortly before deployment. It was a great sacrifice for both of them to be apart at this important time in their marriage. On December 24, 1944, Cahoon wrote the following letter:
My dearest darling:
Tonight was one of the nights I wanted to be with you . . .because it is our first year of marriage. I wanted to be with you to make you laugh, and have it be the happiest Christmas so far in our lives. But I'm not with you, Darling. We are apart at the time of our marriage that we should be together. I hope that when our kids get married they will be able to be together; where we were apart – Hmm, gotta quit looking into the future so much! This war has taken a lot apart for a while, and some forever. Yet, in a way it brought us together. The fact that I have you, Twig, will make this Christmas an awful lot better than last Christmas for me… I wish there was some new way of telling you how much you mean to me, Darling. Since we've been apart it has grown a lot deeper and more wonderful. This last couple of weeks I've noticed it more than usual. I know with all my heart, Darling, that our love will endure all. You are the ideal I've looked for in every respect. Someday we will be together again, and I can tell you and prove to you my love and devotion. Till then, chin-up, my darling.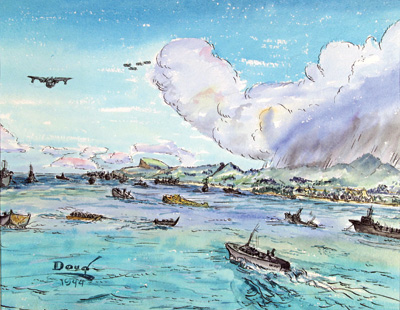 Doug Cahoon painting
A few days before Cahoon's death on March 1, 1945, he wrote:
I miss you so much, but I know that isn't going to get me home any sooner, so I'm just waiting and loving you more each day. Good night, Angel.
Forever yours, Doug
Lieutenant Cahoon was killed in a strafing run over the Naha, Okinawa airfield. It was scheduled to be his last mission before being discharged and sent home.